"Hope for a Better Economic Future" American Outlook, Fall 2010
"Fruitful Collaboration Between One Stop Centers and Faith-based Organizations in Florida: Recommendations for a Statewide Strategy"

This report highlights the findings and recommendations of a diverse group of strategists, drawn from the religious sector, business, and the workforce development community, for advancing collaboration to assist Florida's poor. The report notes the benefits of government-faith collaboration, examining several models nationwide through which low-income citizens are being effectively and creatively served. It describes key "lessons learned" from these models in order to specify the kinds of conditions that make fruitful collaboration possible.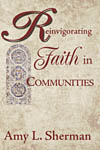 "Reinvigorating Faith in Communities"

This edited volume collects several of Amy Sherman's published and unpublished reflections on "faith-based welfare reform."
"A Survey of Church-Government Anti-Poverty Partnerships," The American Enterprise (June 2000)"
"Charitable Choice: It's Still About Ending Discrimination" Christianity Today online (June 9, 2003)"
"The Changing Face of Welfare," Family Policy (Nov-Dec 1999)
Congressional Testimony, Amy L. Sherman on "State and Local Implementation of Existing Charitable Choice Programs," U.S. House of Representatives' Committee on the Judiciary